After the trend of Full-screen Display, The navigation gestures look like the opposite massive trend in smartphones. If you're a Xiaomi Mobile user, Then you are probably faced with this trouble with the Navigation Buttons no longer running on your smartphone.
The Major cause for this problem is Recently, MIUI Devices followed the swipe gestures as an alternative to Android's well-known navigation keys which are generally buttons that will show when we swipe from the bottom of the smartphone screen.
If You're Using any launcher like Nova Launcher or Lawnchair Launcher, then you would possibly face this issue. If you're looking for steps to fix this navigation gestures issue follow the below steps to fix your navigation gestures.
Also Checkout | Dragon Ball Z Goku Anime Homescreen Setups
How to Enable full-screen gestures in Android
To permit the Full-display navigation gestures to your smartphone, you need to enable the option for full-screen gestures or navigation gestures.
Open Settings on your phone.
Look for Navigation gestures.
If you couldn't discover it then certainly search it inside the search bar.
Just toggle at the Full-display screen gestures!
If you want, you can hide the navigation bar.
Also, check out | Captain America Homescreen setup
Fix Navigation Gestures in Poco, Xiaomi MIUI Devices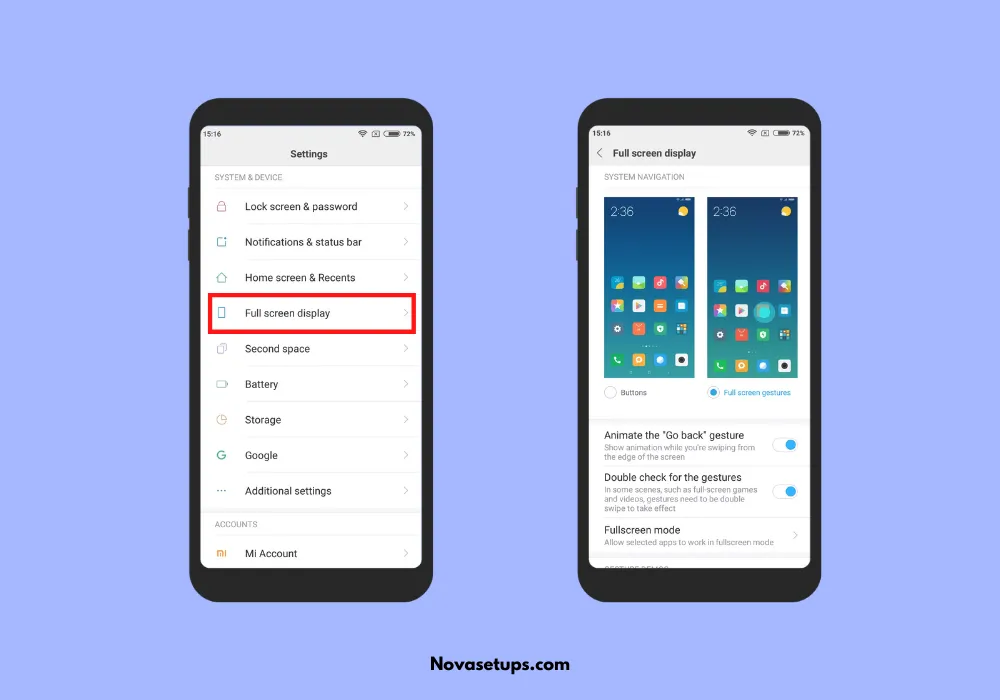 After the replacement of MIUI 12 and MIUI 12.5, a maximum of the Xiaomi smartphone users have confronted this navigation now not running. So, Just follow the below steps to fix the navigation gestures in Any poco or Xiaomi smartphones.
Also, Read | 10 Best Android Customization apps
Open Settings on your smartphone.
Search for Apps and click on them.
Now click on Manage Apps.
Now click on the menu button.
Now look for default apps, click on them.
select system launcher as the default launcher.
How to use Full-screen gestures in Nova Launcher, Lawnchair launcher
In the above technique, we have removed the Nova launcher and selected the system launcher as the default launcher. But, If you don't like to use the system launcher then you need to install the third-party gestures app. which will allow full-screen gestures in third-party launchers like the nova launcher.
Open playstore and download the Full-Screen gestures App.
After Downloading the app, open it.
Now it'll ask you to permit basic permissions.
Just give the required permission. to use full-screen gestures
Also, Read | 5 Best Android Customization apps
Full-Screen Gestures Tips and Tricks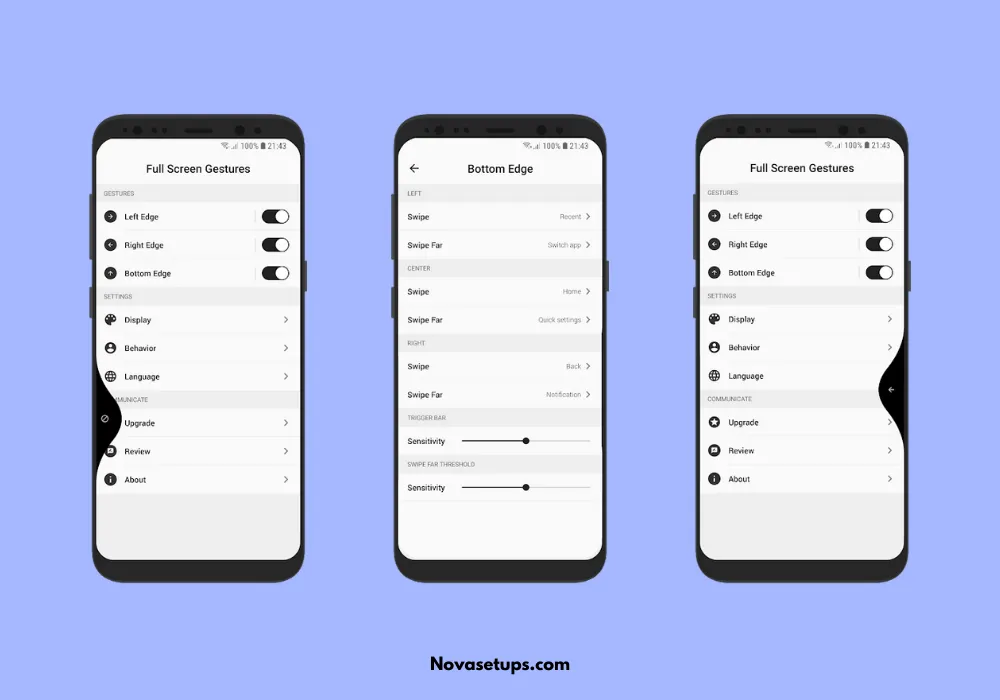 Just like changing the default launcher, we can also change the default navigation gestures to tweak our smartphone features. using this app you can add some extra features to your smartphone navigation gestures.
Also, read | How to Change default Volume panels in android
If you need to add some more functions for your Navigation gestures download the Full Navigation gestures app from playstore and permit the desired permission. After enabling the basic permission now you can add extra functions to your navigation gestures. Also, check out the Moon Knight's review.
Install the app Full-screen gestures
permit required permissions.
In the App settings, add required functions for both rights and left swipes
If you want you can add functions for long swipes.
Conclusion
Using the third-party apps, we can change and tweak the default system functions and features if you want to change your default homescreen launcher then check out this article Best Launcher for android. I hope this article helped you. If so please remember to check our Youtube channel and telegram channel for more cool updates!